For quite awhile now one of my go-to meals have been: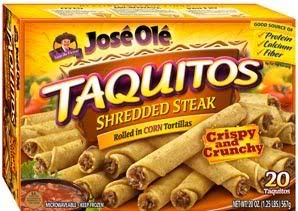 Pop six in the oven on 450 for 15 minutes and I'm good to go. However, I've been trying to change my eating habits and am working to scale back on processed or pre-packaged foods and fast food.
Last month I came across this
recipe
for homemade chicken taquitos,
pinned
it, and decided to make them tonite.
Full disclosure: I have no idea if these are actually more healthy than my precious Jose Oles. Especially once I get to the main reason this recipe caught my eye: cream cheese mixture. Three of the most beautiful words in the English language. The number of things I make simply because they involve a cream cheese mixture is ridiculous. And likely not at all healthy. And, also, silly since unless it's a honey walnut flavor, I can't even eat cream cheese on a bagel.
But moving on. After a quick trip to the grocery store for a few ingredients, of course, I started on Bonnie Ole's Taquitos. (Patent pending.)
This is the cream cheese mixture with chicken, cheese, and a few modifications. (No green onions or cilantro, red salsa instead of green, and a little black pepper.)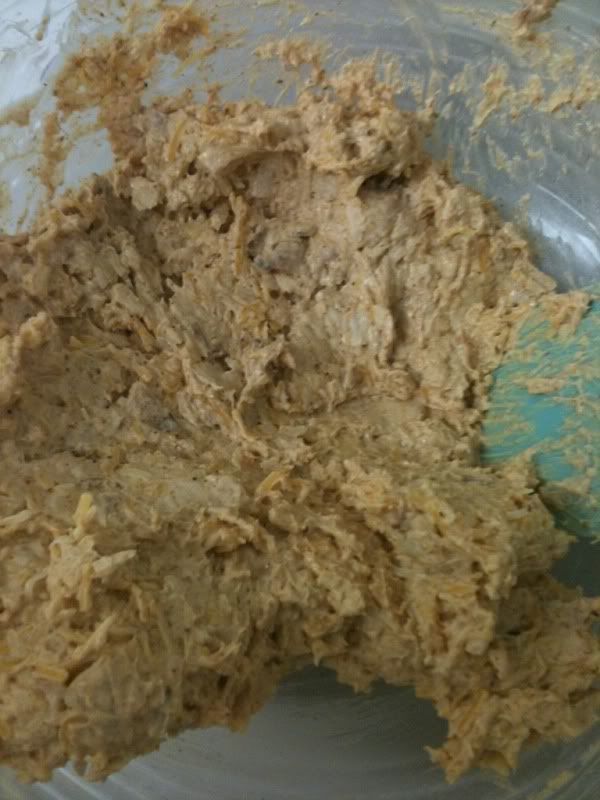 The taquitos with chicken filling all rolled up and ready to be cooked. No in-process shot as my hands were covered in gook. But it made seven nice-sized 'quitos, though I could have probably made more but was tired and hungry and stuffed them quite full. Per the recipe, they also have some kosher salt sprinkled on top.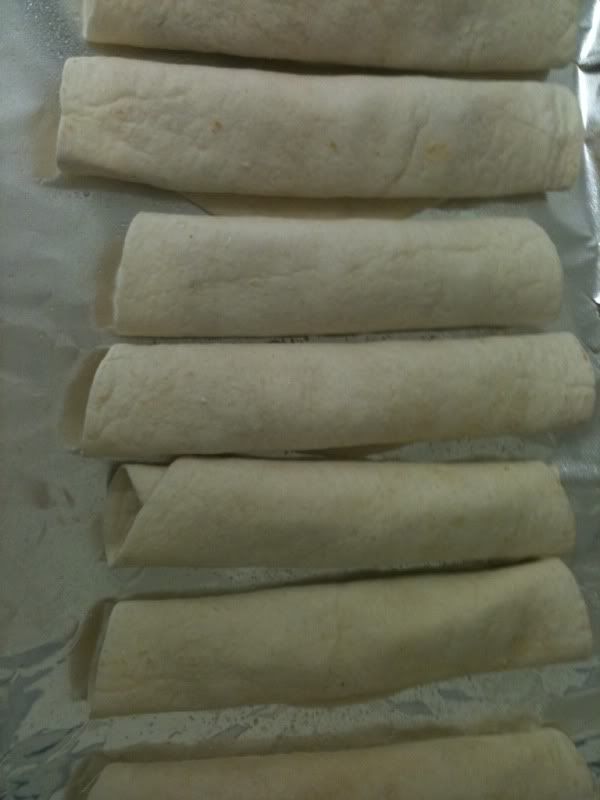 Finished! (More salt on pan apparently, oops.)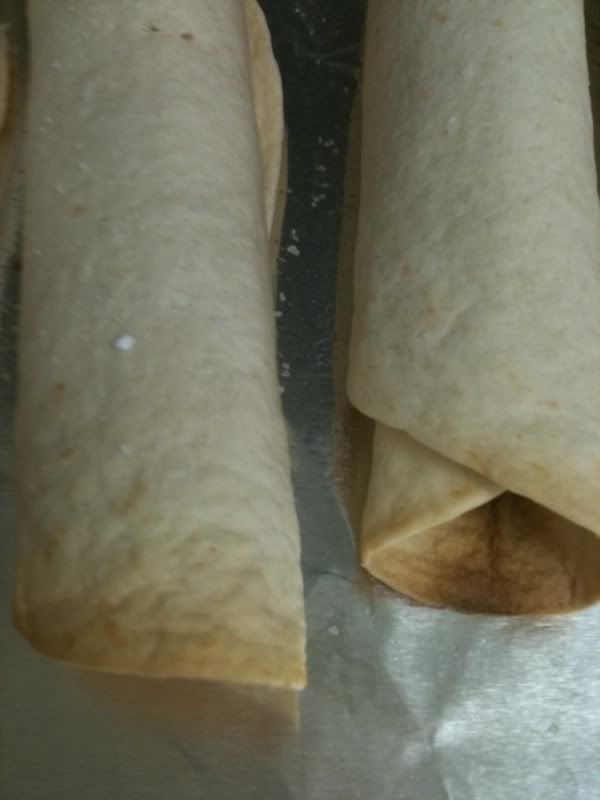 The inside.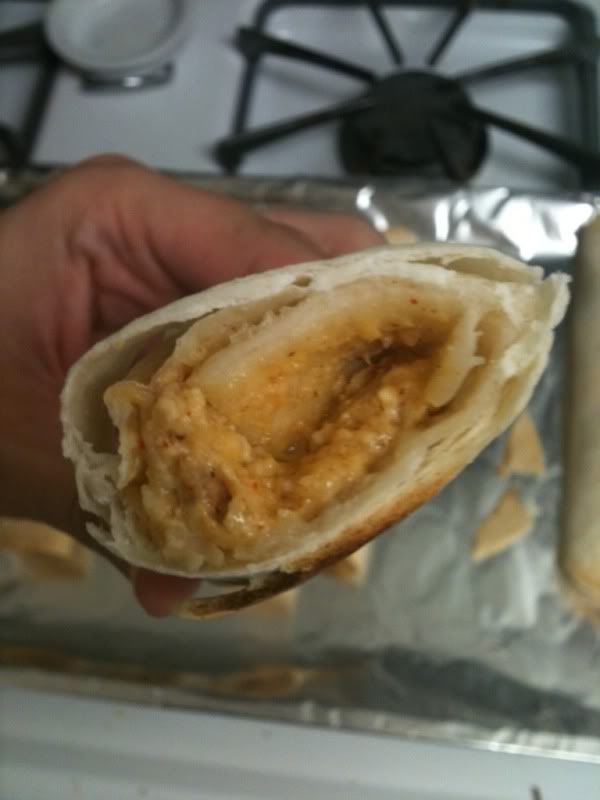 With some refried beans on the side, my dinner.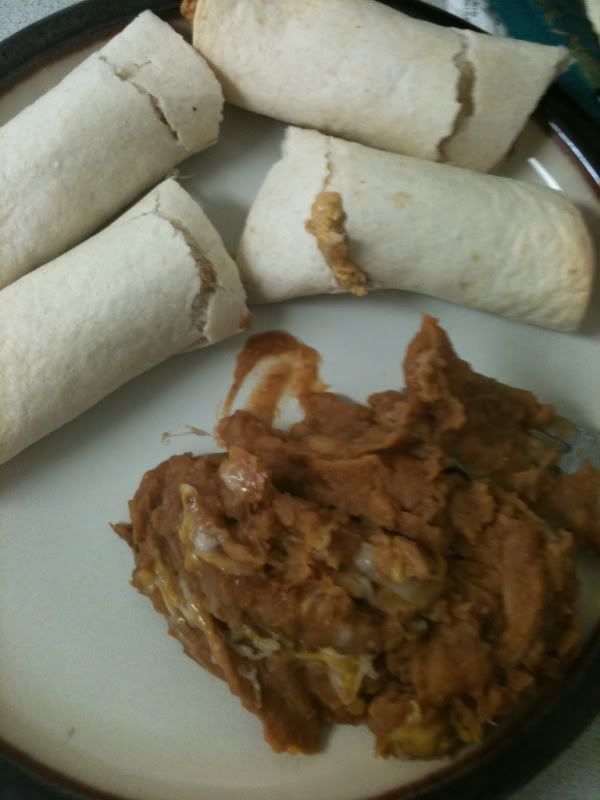 Not to dance around my own sombrero, but Bonnie Ole's taquitos were pretty darn good. They were rich, creamy, and not too spicy. I think next time I may add some more chili powder or salsa but they were very filling and tasty.
For desert I made a very easy fruit dip to go with fresh strawberries: one jar of peanut butter fluff and one block of cream cheese. Mix, chill, and dip. That simple. And oh so good. And any recipe that allows me to buy some fluff and reminisce about peanut butter and fluff sandwiches from my childhood, is a good recipe in my book.
Oh, in case you all are wondering if the lack of MISadventure in this post means I'm maturing or somehow becoming more together, fear not, that will never happen. Why? Because my shoe came off in the crosswalk again today. For the fifth time. Good to know that as long as one area of my life is going well, there will always be another area just waiting to make a break for it in the middle of an intersection. But, at least at the end of the day, I will still have my taquitos.