This is from Wednesday's snow. This is the last time I will post anything remotely nice or joyous in regards to the white stuff that is making me long for spring despite the assurance of allergies and bees that it brings.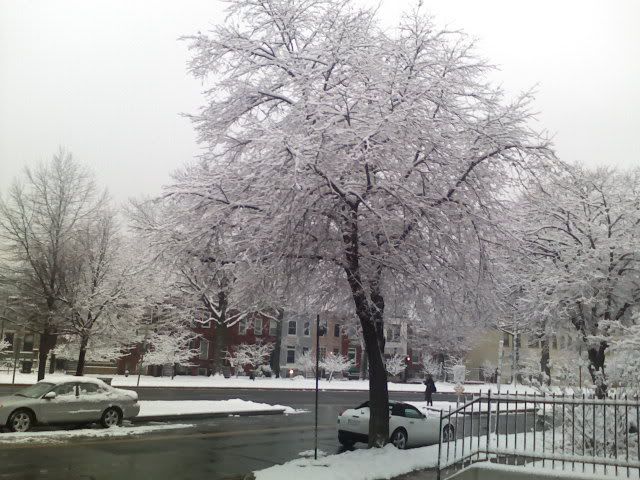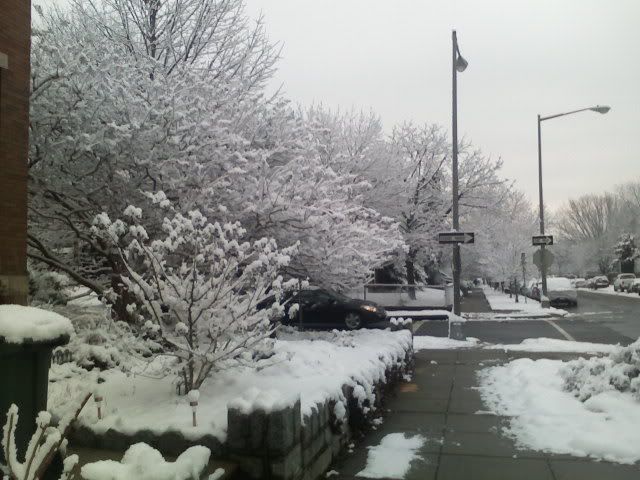 These are from my neighborhood. When I walked out of my apartment it took my breath away. Every tree branch was perfectly coated in white and I felt like I was on a movie set. I think my eyes were the size of saucers until I got to the metro it was so beautiful. Columbia Heights and Old Town were just as lovely.
But now they are projecting 18 to 24 inches for this weekend so I'm done. Having grown up in the south where snow is rare and a treat, I never understood those people who got tired of it. Well, I am sad to say, I am now one of those people. And it's probably largely because I grew up in the south, where everything shuts down when the white stuff hits, that I'm growing to hate it. But up here, even though most everything still shuts down, I still have to do work, walk in it, go to the store in it, put on 14 layers to be out in it, etc. Maybe I just need a good, old-fashioned snow day to make me love it again? Probably not.
Daddy says that this is what I get for moving "above the Mason-Dixon line." However, according to Wikipedia, I'm still below it:
I told Daddy this and he decided D.C., and specifically my apartment, is in a de-militarized type zone on account of Virginia's Confederate status, Maryland's border stateness, and D.C. being surrounded by both. I assume this means I will be protected in a DMZ bubble and be unaffected by the snowfall, though this has not been the case thus far. (I could point out that only one of us was born/lived above the M-D line, but as he has chosen to stay safe in the south while I have ventured off to the Great White North, it would be a moot point.)
Semantics and geography aside, life in the DMZ will be pretty dull the next few days, I imagine. But I've got a stack of books, my dozens of DVDs, some wine, five pounds of potatoes to make soup, and the hope that the weather people are way off and we'll just get rain.
That's the southern girl in me talking: you just never can trust the Yankees.