I'd love to be able to go more than a day without using the word "snow" in a post, a status message, a phone call, an email, or in casual conversation.
Today is not that day. We're expected to get 7-14 inches more tonite, down from the original projection of 10-20 inches. I've never been so happy about
just
a foot of snow. Except the happy only lasts for a second because I'm
tired
of the snow. Tired of being trapped in my apartment. Tired of not being able to go to my office. Tired of stressing about the fact that I have a trip planned for sunny Los Angeles and a plane ride on Thursday evening that might not happen.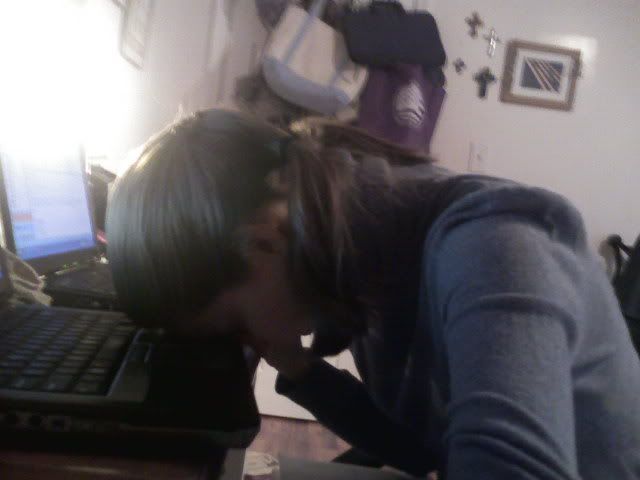 Not to mention that I'm physically tired from little sleep due to congestion and mentally tired from having writer's block and struggling with my work. (And as the picture shows, I had to resort to a high school method of producing productivity: pigtails. It's a long story. Also, just to clarify, I wasn't taking a nap, I was banging my head on my personal computer. The computer on the right is my work computer.)
However, I'm trying to be happy, I'm really trying to appreciate the simple pleasures. So here are five:
We haven't lost power or hurt ourselves, we have food and water.

I have a job that allows me to work safely from home for what is about to be five days now.
I share a living space with a good friend and though we've had very little contact with others, we haven't killed each other.
There were new episodes of some of my favorite shows last night: "How I Met Your Mother," "Big Bang Theory," and "Life Unexpected." This last one is a new show that I simply love, everyone should watch.
Ok that hurt, time to go back to being tired and angry.